Here at Projectwoman.com you'll find tips, tricks, tutorials and how-tos on a range of applications including Photoshop, Microsoft Office applications: Access, Excel, Word, PowerPoint and Outlook.
There are also three blogs featuring tips and tricks for Photoshop, Photographyand Office applications...enjoy!

Illustrator for Lunch™ - Adobe Illustrator Classes
Quick access to all my Illustrator for Lunch™ classes at Skillshare the links here all include details for getting access to Skillshare premium.

Quick Find MadPattern Templates
A visual guide to the MadPattern templates for creating repeating templates.

Top iPad Apps for Making Art
From painting to vector drawing, here are some great apps for your iPad.
Lightroom

ACR & Lightroom for Lunch™
Quick access to all my Adobe Camera Raw and Lightroom for Lunch™ classes at Skillshare - links include an offer for Skillshare premium.

Lightroom video tutorials
Let us show you how to get the most out of your Lightroom experience with these awesome videos.

PaintShop Pro & AfterShot


New!PaintShop Pro & AfterShot
Learn photo editing and photo management with these tutorials and videos.

Excel tutorials


Data Entry Tips & Tricks
Simple tricks for quicker data entry in Excel.


Charts that change
Create this custom solution where one click changes the charts you are viewing.

Databases - Access


Access 101 - Create a Database
Learn how to design a simple database solution



Access 101 - Write Queries
Learn to write simple queries to find data in your database.




Access 101 - Create a Form
Make a custom form to enter data into your database.




Access - Relational Database
Learn to create a relational database and how to write queries, forms and reports to summarize relational data.

Querying a Database - More on Access
When you need to get data out of your database, this tutorial will show you how.

Creating charts and pivot tables from Access data (in Access)
Learn how to create charts on Access forms and analyse Access data inside Access using Pivot Tables.
Catalog your DVDs in Access
Create a database to store, retrieve and print DVD catalog information.
Microsoft Word


Make a WordArt button 
Create a handy WordArt button in Word 2003 or 2007.

Create an E-book Template in Word
How to create an ebook template complete with headers, footers, title and chapters.

Make your own Custom Word 2010 Table Formats
Create reusable custom table formats in Word 2007 & 2010.

Tables 101-Organizing with Tables
Learn how to arrange data in a Word document in tables.



Table Math
Tables are smart - they can add and multiply - learn how in this tutorial



Drawing in Word
Learn how to use Word's inbuilt drawing tools to make drawings in your documents.



Arranging Text in Columns
Learn how to create and manage data in newspaper style columns in Word
Word Spell Checking
Helen Bradley answers all the questions you'd ever want to ask about Word spell checking including how to change the wavy underline color.

Move a Word or Excel macro
How to move a macro from a Word or an Excel file into your Normal.dotm or Personal.xlsb file
Visual Basic


Make a Music Player Pt1 
Helen Bradley explains how to create a music player in Visual Basic Express

Make a Music Player Pt2 
Extend your VB audio player to play ripped WMA tracks.

VB Express Rollovers 
See how to make text and image rollovers for your VB forms.
VB Make an Image Viewer
Learn how to make your own custom image viewer in the free Visual Basic Express 2010 Edition.
Google Docs


Create an Animated Chart Using a GoogleDocs Gadget
Turn a simple chart into a fully animated one.

New!Free Stock Photography!
An up to date list of 30 sites for awesome and free to use stock images - what's not to love about that? We've done the work and you get to enjoy the free pictures!

Lightroom Calendar Templates
Free downloadable Lightroom 2017 & 2018 & 2019 calendar templates.

Cool Hand drawn Frames
We have been hard at work sketching the greatest collection of downloadable hand drawn frames for your photos - for just a few cents each, they are eye candy everyone can afford.
New!

Photoshop for Lunch™
Quick access to all my Photoshop for Lunch™ classes at Skillshare - the links all include details for getting access to Skillshare premium.

Free Shapes for Photoshop 
A growing list of free shapes for use with Photoshop and Photoshop Elements with links and licence information.

Photoshop, Illustrator, Lightroom and Photoshop Elements training.
Learn more about custom one on one training anywhere in the world!

Free Photoshop Brushes 
A growing list of my favourite Photoshop brushes with links and licence information.



Free Collage and Montage Templates
Free storybook style montage and collage templates - for Photoshop, Photoshop Elements, PaintShop Pro & Gimp.

Photoshop Video Tutorials
Come and see our great video tutorials on Photoshop.

Cool effects using Curves in Photoshop
Create a posterize effect, drag curves into the curves dialog and draw curves with the pencil tool.

Make a Planet in Photoshop
Whether you call them planets, 360 degree panoramas or amazing circles, here's how to create one.


Replace a Sky in Photoshop
Learn to replace a blown out sky with a photo of some good sky in Photoshop.

DIY Photoshop Brushes
Learn how to create your own Photoshop Brushes


Blend Modes in Photoshop 
Learn about the blend modes in Photoshop and how to use them to fix your images.

How to use Adjustment Layers
Make photo-editing a simple and undoable process using Adjustment layers



Photoshop Gradients
Fix images and create colorful effects using Photoshop Gradients



Straighten an Image in Photoshop, Elements and Paint Shop Pro
Straighten your images with this simple to follow tutorial that covers the popular photo-editing programs

Photoshop Shapes
Helen Bradley explains how to use Photoshop Shapes to edit your photos and create fun shape overlays.

Create and use Photoshop Masks
Masks aren't as hard as you think they are and this tutorial makes them simple to use.

Create seamless patterns in Photoshop
Learn how to create great seamless patterns and I've included a mini tutorial on TV scan lines.



Color match photos in Photoshop
Even if your photos were taken in totally different lighting

Color Swatches in Photoshop
Create your own custom color swatches and use them in your photo-editing work.

Top iPad Apps for photo-editing
Some great apps for your iPad for editing your photos
Publisher


Using Master Pages in Publisher
Save time when working in Publisher using master pages



Creating Publications Using Flourishes
Flourishes and swashes are all the rage, here's how to use them in your publications
General
iPageReviewBox.com
Get Wordpress tips, webmaster reviews and tutorials for iPage, a popular shared hosting platform.
InMotion Reviews
Check out why inmotion is a popular web hosting provider with several awards from 2003 to 2012.
Webhostinghub
Known provider to personal and small business websites. Have a blog? Webhostinghub is perfect for you!
PowerPoint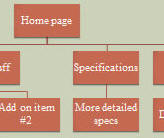 Web style navigation for a presentation
Learn how to apply web navigation principles to PowerPoint presentations that will be run standalone.

Custom Animations
Create custom animations in PowerPoint including one run by clicking a shape.

Featured Blog Post:


Find us on Google+